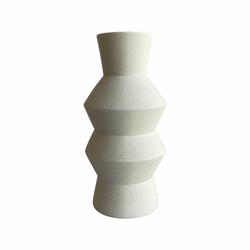 speckled angular vase medium
HK Living
One for the minimal interior lover, our speckled ceramic vase is a sleek and simple piece of home décor that will be at home in any Scandi, monochrome or neutral themed interior.
Exhibiting all the elements of a hand-made item, our range of white ceramic vases all share the same rough and textured exterior, where slight inflexion in the clay, light grey speckles and an ultra-matte finish give a sophisticated, sculptural effect. Inside, a smooth gloss contrasts beautifully with the rugged exterior.

At 30cm high, this tall thin white vase comprises a cylindrical base with a globe shape detail at the top. Its height and thin diameter make it perfect for holding pampas grass, your favourite dried foliage, or simply use as a piece of art deco sculpture around your home.

Due to the hand-made nature of these products, slight imperfections and blemishes should be expected.
ideal for large, extra-large and bespoke floral arrangements.
dimensions 13,5 x 13,5 x 29,5cm